Bio / Contact
contact@danielzisman.com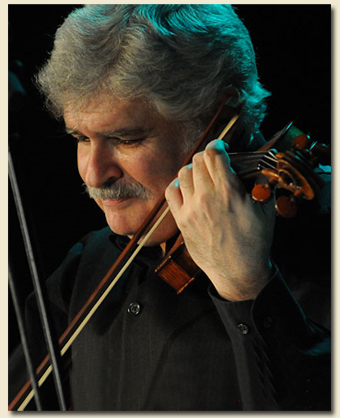 Photo by: Max Moser

Biography
Daniel Zisman was born in 1954 in Buenos Aires. He studied the violin with Professor Szymsia Bajour, and continued his studies in Siena, Rome, Moscow and Gstaad, Switzerland. Winner of the 'Diploma d'Onore' (1974) at the Accademia Chigiana, Siena, he went on in 1975 to win the Royal Philharmonic Society's first prize at the Emily Anderson international competition in London.
1980-2003  he has been leader of the Berne Symphony Orchestra. He has also held professorships at York University (UK) and Bucknell University in Pennsylvania (USA) where he was Artist in Residence. In 1985 he became first violin of the Fitzwilliam Quartet and, in 1987, co-founded the Debussy Trio. He performed extensively with both ensembles. In addition to leading the Berne Symphony Orchestra, he taught at the Berne Conservatoire. With the benefit of many years' experience in the field of violin teaching Daniel Zisman developed the system known as Provision (Professional Violin Supervision).

Music from Buenos Aires has always been part of his repertoire. He has presented it widely to audiences in Europe, Japan, Israel and North America, mainly through recordings with I Solonisti and Tango 7 (both which he founded). More recently, Daniel Zisman has devoted himself to researching the aesthetics and history of Tango and the Third Stream. Presently he is working at his new musical-theatre composition, Tangos Paralelos. He has performed Piazzolla's symphonic works both as soloist and conductor with numerous orchestras worldwide.

In 1999 he founded the successful 676 NuevoTango Ensemble, which has since performed worldwide and has produced several records.

From 2001 until 2004 he directed the Swiss theatre premiere of Astor Piazolla's opera María de Buenos Aires. In 2004 he founded tiempoSur, an association devoted to the encouragement of compositions and performances of urban music from Argentina and Brazil.

He plays in Tango2 Duo with his bandoneonist son Michael, and also in a violin-piano duo with the Swiss pianist Christina Bauer. In tandem with his performing activities, Daniel Zisman has been working intensively for the last two years in the fields of composition, Hebraic music research and CD productions.